Home Made Dog Food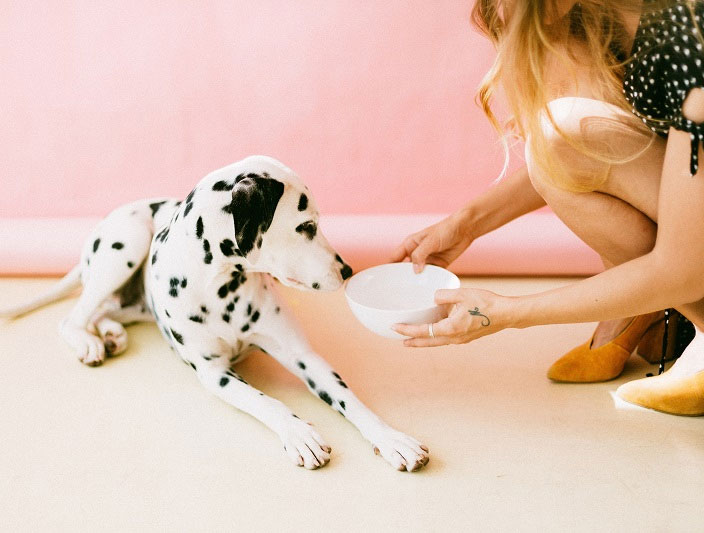 March 1, 2021
The general rule of thumb for a home-made diet for a healthy canine patient is 75% meat/15%vegetables/10% carbohydrate. Variety is the key to a healthy diet so be sure to vary your meat, carbohydrate and vegetable sources from time to time. A mixture of sources can be used too rather than a single source (ie, turkey and sardines for your meat instead of just all turkey).
Use seasonal vegetables that are organic whenever possible and organic meat too. If you feed organ meat, this should ALWAYS be organically sourced, especially liver since this organ filters many toxins. All of these ingredients can be placed in a crockpot and cooked or cooked on a stovetop as well. Larger portions can be made and frozen into servings or an individual meal can be prepared using the ratios below.
It is EXTREMELY IMPORTANT that this general recipe be balanced with the appropriate vitamin and mineral supplementation. Feeding this diet alone is not enough for your dog and at some point, they will become deficient in essential nutrients.
If your dog has special needs, please call our office to discuss a homemade diet based on their medical diagnosis. Some patients will need to have the ratios of these ingredients adjusted based on their condition.
Protein – 75%
Beef, chicken, turkey gizzards, livers (beef/chicken/turkey), hearts (beef/chicken/turkey), white fish (flounder, grouper, cod (no bones), rabbit, oily fish (sardines in olive oil), salmon, eggs, lamb, veal.
***AVOID BEEF, CHICKEN, LAMB AND VENISON IF YOU HAVE A DOG WITH FOOD ALLERGIES***
***Pork is not recommended for patients with a history of digestive issues or pancreatitis due to the fat content***
Complex Carbohydrate – 10%
Brown rice, whole oats, barley (whole, pearled), quinoa, millet, buckwheat/Kasha, sweet potato/yam, potato, Roots (turnip, beets, yucca)
Vegetables – 15%
Green beans, asparagus, zucchini, yellow squash, cucumber, tomato, carrots, hearty greens (Chinese cabbage, bok choy, kale, broccoli, Brussel sprouts, spinach), leafy greens (romaine, spring salad/herb mix, dandelion greens, watercress), pungent (radish, daikon radish, scallion)
Snacks
Fruits. Apples, pears, pineapple, papaya, dates (no pitted), figs (no stems), goji berries, banana, blueberry, melon
Raw vegetables (see list above)
Raw, meaty marrow bones – beef, bison, lamb, venison
Raw chicken or turkey necks
Supplements
*IMPORTANT: Fold into cooked food daily. Do not heat or cook the supplements.
1. Omega-3 fatty acid supplement. 200 mg per 10 lbs. Fish or krill oil can be used.
2. Multi-vitamin. An adult multivitamin can be given. Give ¼ tablet per 25 lbs. or highly recommended is Rx Essentials for Dogs by Rx Vitamins. This is a powdered supplement that can be mixed into daily meals.
3. Mineral supplement. Rx Minerals by Rx Vitamins is highly suggested and can be purchased online. If you cannot purchase this, this please call our office to discuss mineral supplement alternatives.
4. Other herbs. If used, these should be chosen based on individual patient health. Please consult with your veterinarian about the best ones for your pet before giving them based on their medical history.
QUANTITY TO FEED.In general, if your dog is not overweight or underweight, feed the same volume of food as you did when you fed commercially prepared food.
---
Another excellent resource for homemade diets is the website BalanceIT.com. Supplements to balance their recipes can be purchased on the website as well.
HARTFIELD ANIMAL HOSPITAL, PO BOX 127, HARTFIELD, VA—804-776-9219, frontdesk@hartfieldanimalhospital.com
Written by: Dr. Scales